2022 Tacoma General Cruises & Trips

2023 Ladies Poling Trip #1

2023 Ladies Poling Trip #2

2023 Men's Poling Trip #1

2023 Men's Poling Trip #2
The Tacoma Preservation Society (TPS) is undertaking a complete restoration of the Motor Fishing Vessel (MFV) Tacoma. It is Australia's first purpose built purse seine fishing boat. As a tuna clipper, it changed the course of pelagic fishing in Australia.
With the help of many volunteers and sponsors, this project commemorates the story of the pioneering fishing Haldane family from Port Fairy, the construction of one of the most historically significant vessels ever built in Australia and the impact this vessel made in the development of the tuna and prawn fishing industries in Port Lincoln in South Australia.
Members of the TPS are a group of individuals who believe a boat is seen at its best in the environment for which it was built – the sea.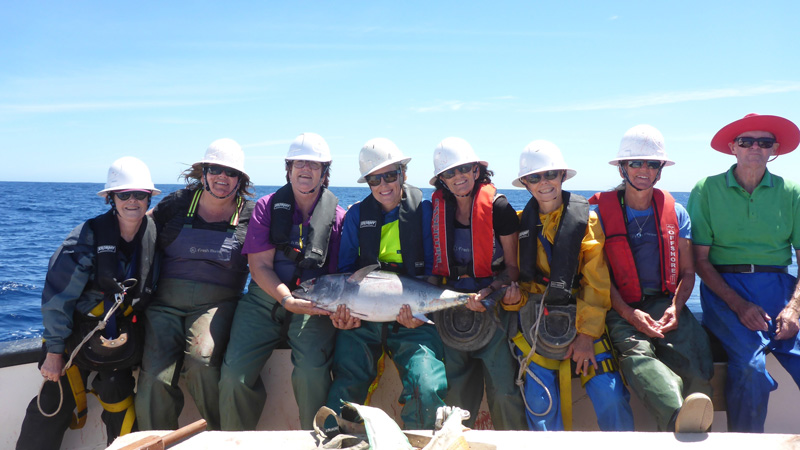 View the latest Newsletter
2023 Men's Tuna Poling Fishing Trip #2 February 17th to 22nd 2023 Scan the horizon searching for schools of SBT Experience the smells and sounds of the engine room Enjoy a night at anchor around the galley table, warmed by the AGA cooker Stand in the lofty pilots house amid the chatter of radios, surrounded by charts and log books ...
Come Aboard...
The MFV Tacoma is moored at the end of Sandy Point Drive, off Laguna Drive in stage two of the Port Lincoln Marina.
Volunteers work on the preservation of the vessel every Friday. If you'd like a tour of the Tacoma, guides can show you around. The cost is $15.00 per person. Tours start from 10.00am.
Please phone the Tacoma Preservation Society on
0428 821 125 to confirm a time to suit you.